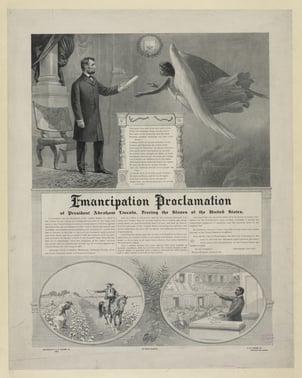 The Emancipation Proclamation:
A Pragmatic Compromise
Opening June 5, 2023
The MAAH exhibit space offers a new showcase exhibit, The Emancipation Proclamation: A Pragmatic Compromise. This exhibit shares the factual story of the rationale and impact of this celebrated American document that changed the course of the Civil War, freed enslaved people in the Confederacy and allowed men of African descent to join the fight for freedom.
With excerpts from the MAAH produced documentary, Jubilee, Juneteenth and the Thirteenth, the exhibit also introduces Boston's 1863 Emancipation Proclamation Jubilee events; one hosted by upper-class whites to raise money to educate those enslaved and the other orchestrated by Black Bostonian, William Cooper Nell and held at Tremont Temple, the nation's first church built to equally host an interracial congregation. The exhibit introduces the Jubilee speakers and attendees as chronicled in the January 16, 1863 issue of The Liberator.
Audiences come away with a new understanding of the reality that surrounded the enactment of this celebrated document and exposure to lesser-known abolitionists as well as Fredrick Douglass who led the African American fight for freedom and equal rights.
Selections from the Collection
The Museum of African American History holds a collection of over 3,000 items accrued over fifty years. Selections from the Collection features samples of our historical artifacts and art collection providing a lens unique to the narrative of African-descended people, places and events in America.

These historical artifacts chronicle a story that begins on the African continent, moves across the Middle Passage, anchors itself in Boston's Harbor in 1638 with the arrival of the first documented kidnapped Africans on the slave ship, The Desire, and progresses to the establishment of a free black community on Beacon Hill in the late 1700s. These artifacts tell the real stories of Boston's free black and abolitionist community who built gathering places, created organizations of agency and networked with others to claim their rights and to define their own identity for their own purposes.
Selections from the Collection authenticates the important and critical role Boston's small but mighty black community played in the national story–from this country's earliest days into the 20th century.