The Museum of African American History's educational programs are rooted in our historic sites,

collections,

exhibitions,

and

cutting-edge scholarly research

.
Our programs connect colonial and early African American History and culture in Boston, Nantucket, and the larger New England area with the abolition of slavery and current explorations of race and the struggle for human rights. The Museum offers a variety of educational experiences for families, schools (grades 7-12 and college), and corporations.
To schedule a guided tour, learn more about educational programs, or inquire about partnerships for public programming contact us at education@maah.org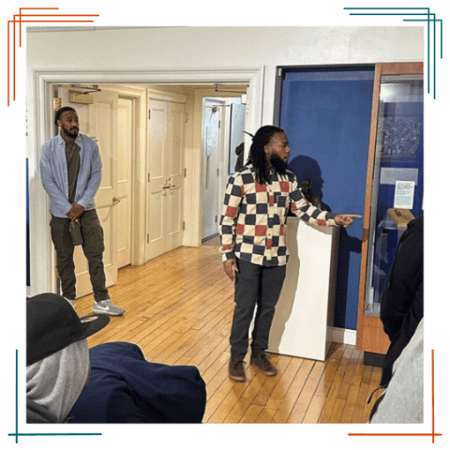 Guided Exhibit Tours
Virtual or In-Person
All Ages, In-Person Group Limit of 25
Join one of our Staff Educators as they guide your group through the current exhibition on display. This includes a tour of our historic properties in Boston or Nantucket and a general overview of the 18th/19th c. African American communities that occupied these locales and led the fight to end slavery.
Writing Boston's Future Fellowship
In-Person
Grades 7-12, Application Required
This National Endowment for the Humanities supported program partners the Museum with the Boston Writing Project (BWP) at the University of Massachusetts Boston to help decolonize education for African American youth in secondary schools. Selected student and educator fellows resuscitate the spirit of Boston's Black Abolitionists to help transform the curriculum, teaching and learning, and to support writing growth around racial equity.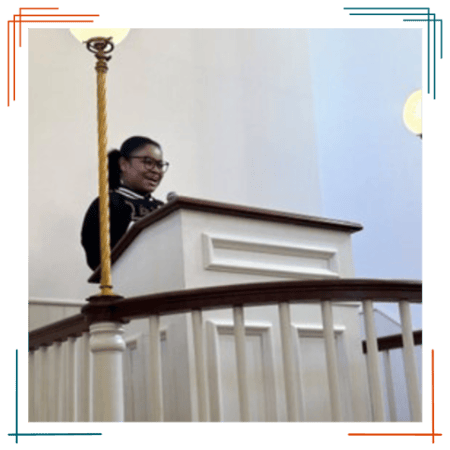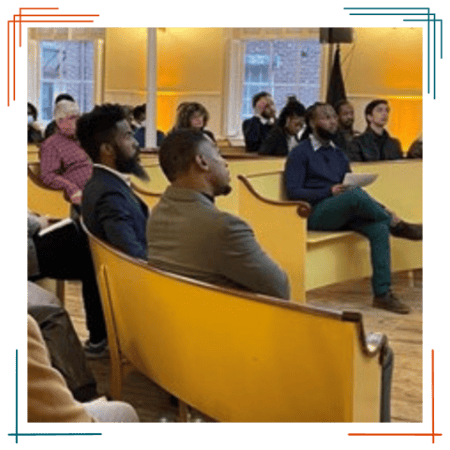 Public Programs
In-Person or Virtual
The Museum serves as a partner with many cultural organizations and academic institutions in planning and hosting public programs. Examples of these types of collaborations include the National Park Service, American Ancestors/NEHGS, the Boston Public Library, Handel and Hyden Society, The Teachers' Lounge, Boston's First Night, The Boston Writing Project at UMass Boston, The Black Student Union at Harvard's Graduate School of Education University, amongst others. More information on upcoming programs can be found at maah.org/events
Place-Based Boston Graduate Institute
In-Person and Virtual Components
Free for Boston Public and Charter School Teachers, K-12
Place-Based Boston is a collaborative of historically, naturally and culturally significant sites made up of six organizations in Boston: Museum of African American History, National Park Service, Old North Church, Paul Revere House, Revolutionary Spaces, and the USS Constitution Museum.
In July, 2023, in preparation for the 250th commemoration of the nation's founding, Place-Based Boston partners will host a week-long summer institute themed around voice and action. Participants will explore how these themes have shaped the City of Boston over the centuries, and how these stories have sustained relevance and continue to inspire people today.
Course information:
• Teaching with Historic Places: A Community-Based Approach for K-12 offered by Framingham State University
• Participants will earn 3 graduate credits and design projects incorporating Place-Based Boston sites' resources
All guided tours require a reservation in advance. Scheduling is subject to educator availability


If you have a group larger than 25 people for a guided tour, we are still happy to work with you to figure out the best way to accommodate your group. Contact us at education@maah.org for details and fees.


Education programs and guided tours last between 60 and 90 minutes, depending on the program and audience.
MLK Summer Scholars Program
Boston Area High School Students
Each summer since 2007, the Museum has hosted several Boston area high school students for paid internships through John Hancock's MLK Summer Scholars program. Each summer, our Scholars have had the wonderful opportunity to immerse themselves in the rich history of Boston's 19th-century black community on Beacon Hill, learn about the inner workings of a small non-profit, and gain valuable professional skills.
Students in my class were so moved by the experience of being in the museum and in the Meeting House (as one student said, "Frederick Douglass spoke there?!"). I know that all of us will be thinking about Boston, sociology, and our own everyday lives in a radically new way after yesterday afternoon.
The inspiring historical presentation was like taking a walk back in time! It was spellbinding, full of emotion and a true awakening of the conscious.
On behalf of the AAF Team and the GE participants, I'd just like to thank you for your illuminating and superb lecture today, and the time you took to customize this and put it together for us.