The Museum of African American History's education programs are rooted in our historic sites, exhibitions, on-going rich scholarly research, collections of objects, documents, books and art.
Our series of hands-on, interactive activities and programs provide a history learning laboratory in which students and teachers explore, transform, and grapple with their understanding of the past. This supports cultural, historical and visual literacy development and a multi-disciplinary approach for students and educators across grade levels and subject areas.
MAAH education tours and programs are designed to meet the Massachusetts Social Studies Framework and Common Core standards.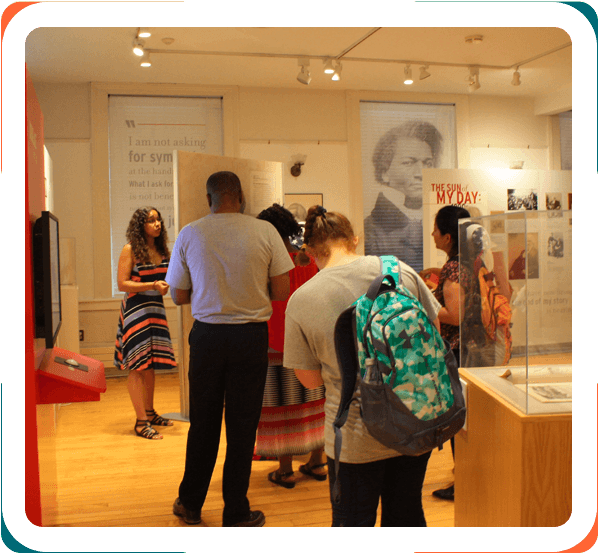 Guided Exhibit Tours
Virtual or In-Person
All Ages, In-Person Group Limit of 25
Join one of our Staff Educators as they guide your group through the current exhibition on display. This includes an African Meeting House talk which gives a general overview of the Black Bostonians who lived on Beacon Hill in the 18th and 19th centuries.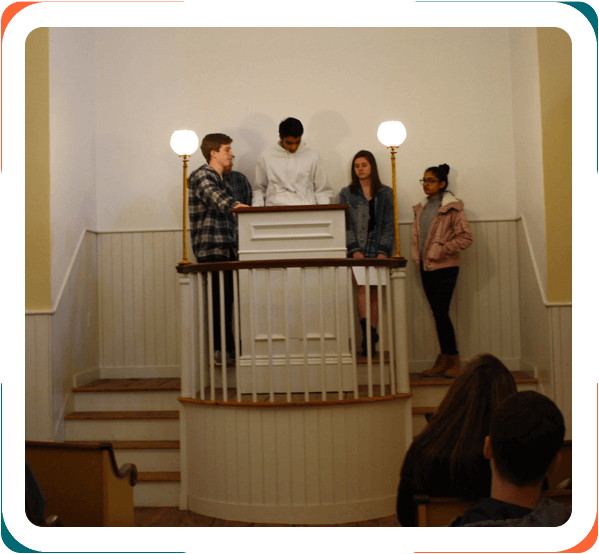 They Spoke Here: Abolitionists' Debates
Grades 10-12
In-Person Program ; Group limit of 25
Using authentic words from primary source materials, students participating in MAAH's Abolitionists' Debate program form teams and present opposing arguments. Their topics are formed by studying significant issues using historic lectures and meetings held by antislavery societies, debate clubs, and women's groups who met in the African Meeting House on Beacon Hill before the Civil War. Students learn debating rules while presenting and defending issues and arguments in this format.
Topics currently available include:
The Politics of Anti-Slavery
Equal School Rights
Hear ye' Hear ye': Petitions and their Role in Change
Grades 7-12
Virtual or In-Person; In-Person group limit of 25
A Petition program offers to teachers and their students a workshop in the exploration of early petitions to exercise the right of citizenship - centering on petitions as an instrument of change. The application of this knowledge is to help inform students on activism and how it relates to petitions that are produced in the 21st century. Through the interactive workshop, students are engaged to develop petitions on issues important to them in designated groups. This workshop can be offered virtually and has been offered in our physical space.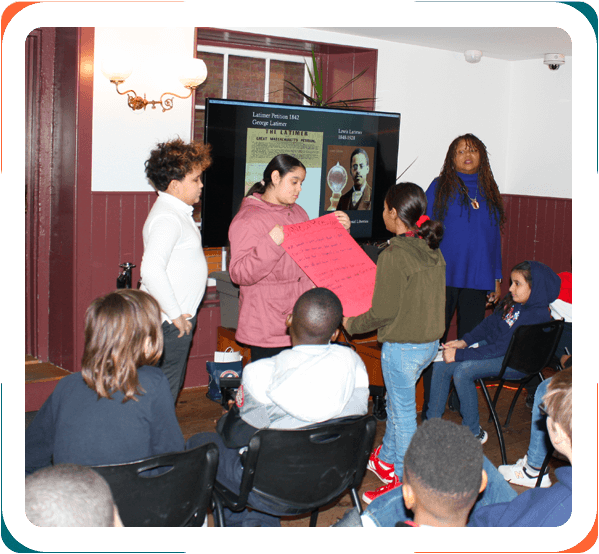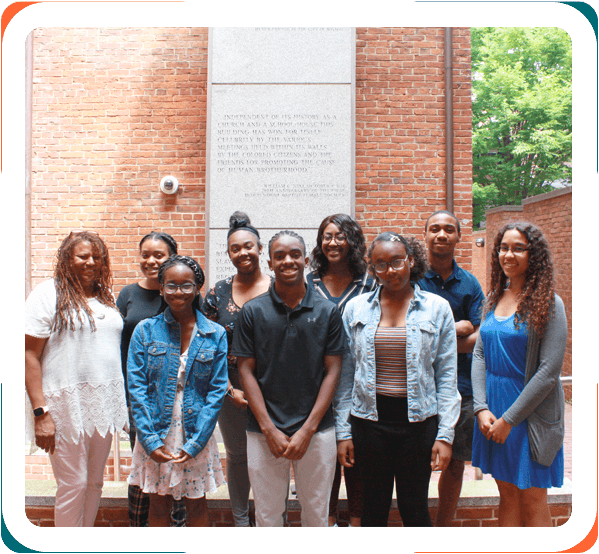 MLK Summer Scholars Program
Boston Area High School Students
Each summer since 2007, the Museum has hosted several Boston area high school students for paid internships through John Hancock's MLK Summer Scholars program. Each summer, our Scholars have had the wonderful opportunity to immerse themselves in the rich history of Boston's 19th-century black community on Beacon Hill, learn about the inner workings of a small non-profit, and gain valuable professional skills.
Teacher Programming
Institutes & Professional Development
MAAH is eager and excited to work with educators as often as possible and would be happy to to be a part of professional development events and workshops. We have worked with Boston University, the Gilder Lehrman Institute at Yale University, Bunker HIll Community College, and more to offer professional development experiences for teachers and professors. Options may include, but are not limited to:
A guided tour of our current exhibit.
A guided visit to our Nantucket campus, including the African Meeting House, the Seneca Boston – Florence Higginbotham House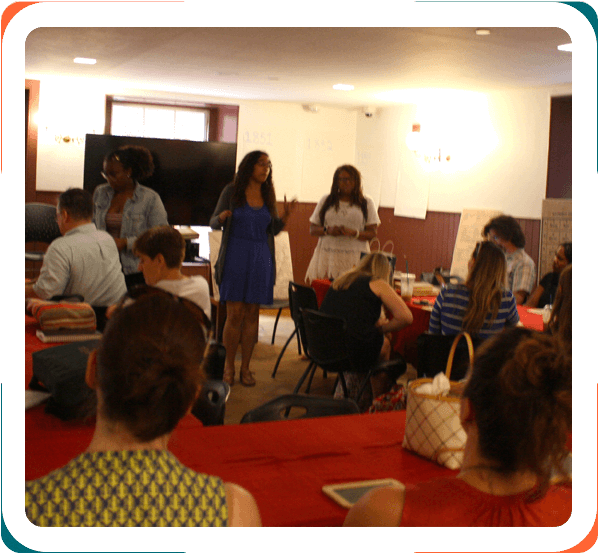 All education programs require a reservation in advance.
Education Programs and guided tours are offered Monday - Friday.
Scheduling is subject to educator availability.
If you have more than 30 people, we are still happy to work with you to figure out the best way to accommodate your group. Contact us for details and fees.
All programs are FREE to Boston Public Schools
Education programs and guided tours last between 60 and 90 minutes, depending on the program and grade level.
All on-site programs take place at the Museum's Boston campus located at 46 Joy Street on Beacon Hill.
Call for information about Education Programs being developed for our Nantucket campus.
To request a special program, complete the Online Program Request Form, providing as detailed a description as possible about what you have in mind or call us at 617.725.0022
Students in my class were so moved by the experience of being in the museum and in the Meeting House (as one student said, "Frederick Douglass spoke there?!"). I know that all of us will be thinking about Boston, sociology, and our own everyday lives in a radically new way after yesterday afternoon.
Autumn's inspiring historical presentation was like taking a walk back in time! It was spellbinding, full of emotion and a true awakening of the conscious.
L'Merchie - On behalf of the AAF Team and the GE participants, I'd just like to thank you for your illuminating and superb lecture today, and the time you took to customize this and put it together for us.