MOVED ONLINE – NO IN-PERSON ATTENDEES at the Emancipation Proclamation Concert, Dec 31.
Out of an abundance of caution and in accordance with City of Boston and First Night Boston protocols, there will be no in-person attendance at this year's Emancipation Proclamation Concert.
We will videotape the performance, and release the recording in the near future.
Join us for our annual commemoration of the original 1863 Grand Jubilee concert in Boston, where members of H+H performed in celebration of Lincoln's enactment of the Emancipation Proclamation.
The Handel and Haydn Society and the Museum of African American History partner to present the ninth annual Emancipation Proclamation Concert, a joyous celebration of liberty and freedom. Join H+H musicians, National Poetry Slam Champion Regie Gibson, and conductor Anthony Trecek-King to commemorate Boston's historic central role in the abolition movement, to celebrate the spirit of progress for human rights, and to recognize the role of music in creating alliance and belonging.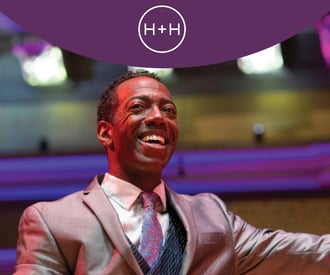 OIN US IN PERSON OR VIRTUALLY ON SUNDAY, DEC 5Get ready for one of the most anticipated annual events with our celebrity host, Anthony Anderson, back in person by popular demand, at the Museum's Living Legends Gala. On Sunday, December 5, celebrate Boston's unique African American community and experience the compelling stories of the past and present inspire pride and continue the legacy of equality for all.We have planned the best in hybrid programming during the Live In Person Event and Virtually, co-chaired by Dr. David Brown, President of Mass General Hospital, and Ronald L. Walker, II, CEO of The Walker Group. The Gala will honor M. Lee Pelton of The Boston Foundation and Dr. Peter L. Slavin of Harvard University, Dr. Ibram X. Kendi, and Actor, best-selling Author and philanthropist, Hill Harper.Join us Live at the NEW Newbury Boston Hotel for a special in person experience featuring dinner, live entertainment, and YOU socializing in a COVID safe environment, or join us virtually from the comfort of your home. This event promises to be an insightful, fun, and passion-filled interactive experience with a 360-degree virtual event you'll never forget.
Event Details
Date:12/5/2021
Location:The Newbury Boston